Best cars for surfers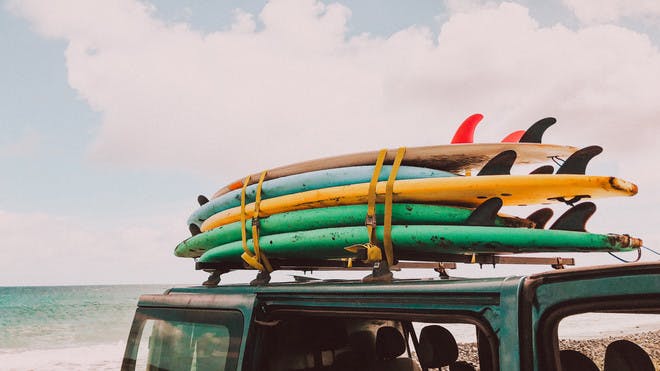 Whether you're catching waves in Cornwall or braving the surf in Scotland, you'll have to get to there first. Follow our tips to help select the best car for you. 
When surfing was imported from California, along with it came a taste for rugged vehicles that look cool and can carry a board or two. Many surfers live a long way from the coast, too, so having a vehicle that they can sleep in can also be useful.
And while it's often not possible to drive on most beaches, having a car with four-wheel drive could come in handy for getting close to it, or when staying at a local campsite.
So, if you're in the market for a board carrier, you might want to check out some of our picks.

Best SUV: Hyundai Santa Fe
If you want a rugged, good-looking and practical SUV, the Hyundai Santa Fe is a good choice.
The latest generation has seen a serious upgrade in quality, making it a comfortable, long-distance cruiser. The 2.2 CRDi diesel engine – the only available option – is strong enough to carry passengers, kit and boards on a roof rack with ease. 
Alternatively, if there's just one or two of you, folding both rows of rear seats will give you a space cavernous enough that you should be able to fit your boards inside, rather than using a roof rack.
There are versions with four-wheel drive, if you want a little off-roading capability, while there's also plenty of safety kit and onboard tech.
Best for weekenders: Volkswagen California
If you regularly take off for weekends to go surfing, then a camper van might save you a lot of money on accommodation. 
And if you want to hark back to the golden era of Volkswagen campers, but also want the latest mod cons, the California is what you'll want.
The California has lots of options and permutations, so you can have a van that sleeps two or four, has optional four-wheel drive, or a manual or automatic gearbox. There's also a kitchen, with coolbox and burner rings, a wardrobe for hanging clothes and lots of clever storage options.
Best MPV: Peugeot Rifter
One of the current crop of vans-turned-MPVs, the Peugeot Rifter is a highly practical, but still comfortable people carrier that will also swallow up plenty of cargo, including your surfboard.
Available in two sizes – five-seat and seven-seat – the Rifter is pretty massive inside, with lots of headroom and loads of clever storage solutions, including airline-style roof bins.
The Rifter is very comfortable on the road and performance is unexciting but decent enough, with power coming from one of three diesel engines or one petrol unit.
Best pickup: Toyota Hilux
A pickup is a suitably rugged-looking, outdoorsy vehicle to go surfing in, with the Toyota Hilux one of the best on sale currently.
Famously indestructible, the Hilux is great for tackling any kind of terrain, while at the same time, being able to lug lots of equipment. Available with a choice of three types of cab – single, extra or double – the Hilux can also be fitted with all kind of accessories for hauling loads, including board racks.
It's also comfortable on the road and easy to drive, and the 2.4-litre diesel engine is strong enough to pull a trailer or caravan, if required.
Best for feeling like you're Californian: Jeep Wrangler
If you want to adopt a full-on American approach to your surf life, the only choice is a Jeep Wrangler. 
There are a few different versions, with different wheelbase lengths, but every variant allows you to take all the doors off and lower the windscreen for that essential beach buggy look. You can also have it fitted with special off-roading tyres so it can cope with dunes or get to break-filled bays that are usually inaccessible by car. 
It also has a washout-interior, so you can just open one of the floor drain valves, hose it down and the water and muck that has accumulated in the cabin just flows out.
Make searching and staying updated even easier.