Where do we deliver?
We offer free home delivery to mainland Great Britain, the Scottish Islands and the Isle of Wight postcodes. We don't deliver to Northern Ireland, the Isles of Scilly, the Isle of Man, Jersey, Guernsey and the other Channel Islands. We also reserve the right not to deliver to certain addresses due to vehicle access limitations.
Your car's journey
Behind the scenes
Once you order, some serious magic happens here at cinch HQ. First, our logistics team gets your car prepped, ready and on a transporter to a local delivery hub. Then, it's over to one of our handover specialists to collect your car and arrange any paperwork. Finally, the car is valeted and sanitised, so it's spick and span for you. Et voila, it's time for delivery!
The delivery day
On the big day, one of our handover specialists will be in touch to let you know when they set off. To make sure you're happy, they'll take some of the 2-hour delivery slot to show you around your car, explain any technical bits and check everything's in order. And when it's all signed for, they'll hand over the keys. Simple!
To help keep you safe, your handover specialist will wear a face mask, keep their distance where possible, and fully sanitise the car.
Prefer free collection? Meet a cinch handover specialist at a collection location near you.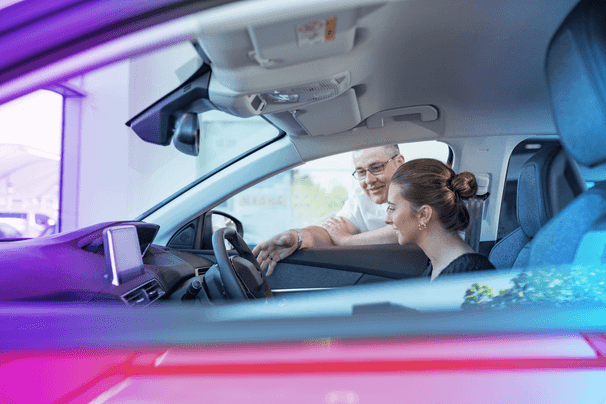 After it's yours
The car's arrived and you can finally take it out for a spin. We hope you love it! Just remember, our support doesn't stop there...
3 days' free insurance
We offer 3 days' free drive away insurance with Tempcover on cars under £45,000. Check your confirmation email for details on how to set this up.
cinchCare plan
Our cinchCare lifetime warranty, servicing and breakdown cover starts from just £34.99 a month.
Money-back guarantee
Our 14-day money-back guarantee is there if you change your mind. Just give us a call and we'll do everything we can to help.
Part-exchanging your car?
We make that faff-free too! Your handover specialist will take your part-exchange away when they deliver your cinch car. To make sure it's good to go, they'll check:
Your car is roadworthy (e.g. the battery is charged and there's enough tyre tread)
Your car has a valid MOT
You have any spare keys
Your V5 log book matches the car
You've removed all your personal belongings
Ready to hit the open road?
Let's find your next car