The best cars for cyclists
What to look for in a car if you're carrying bicycles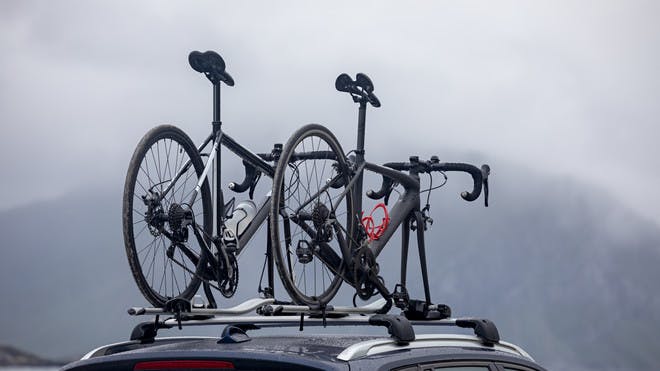 Heading for a holiday with the kids and their bikes, or a spot of mountain biking with your mates? Our tips will help you know which models to look for when choosing a car to carry bikes. 
Transporting bikes isn't easy. They're pretty awkward to store, what with those wheels and pedals, plus chains rubbing oil into seats. They're even worse after they've been used, muddy and dirty.
Most cyclists opt to carry their bikes on racks, either on the roof or mounted to the rear hatch. There are also tow bar-mounted carriers, some of which are available as approved accessories from most manufacturers.
Car makers offer racks and carriers as extras, but there are lots of third-party examples too, many of which will be less expensive than the approved racks, so shop around.
Either way, carrying bikes externally can have a significant negative effect on your car's fuel consumption, plus there are security issues when parked. For these reasons, many riders prefer to store their bikes inside the car, often removing the front wheels for easier storage.
Whichever way you go, you can't go wrong with these car choices.
Best cars for cyclists
Best to go with carbon fibre: BMW 5 Series Touring
If you have an expensive bike, you'll want to keep it protected by carrying it inside your car. And there are few better cars for loading a bike into than the BMW 5 Series Touring.
The Touring is the estate version of the highly acclaimed 5 Series, so it has a spacious boot, with a capacity of 1,700 litres when the rear seats are folded down. This is enough room for your bikes and any bags containing kit or clothes for a holiday. 
The 5 Series Touring is also a superb car to drive and supremely comfortable, so when you get to where you're starting your ride, you'll be in good shape.
Best for Le Tour: Škoda Superb Estate
Škoda is one of the sponsors of the Tour de France and the Superb is used by the cycling teams and officials during that marathon three-week event. So, if the Superb is good enough for the pros…
The fact is, the Superb is good enough for anyone, because it's a fine car. Better still, the estate has an absolutely cavernous boot of 1,950 litres with the rear seats down, so there's plenty of room for bikes and kit.
Throw into the mix the excellent comfort levels, the option of four-wheel drive and impressive economy, and you have the perfect package.
Best for mountain biking: Audi A6 Allroad
If cycling off-road is your thing, then you'll need a car that can get you and your bikes to where the rough stuff is. 
The Audi A6 Allroad is a good option because it has an effective four-wheel-drive system that can cope with all but the very toughest off-road conditions. It also has a slightly raised ride height that will help it go along muddy tracks and through fields. The 3.0-litre diesel engine pulls really strongly too, making it easy to drive and powerful enough to get you out of trouble off the tarmac.
Fundamentally it's an estate car, so the 1,680-litre boot will simply swallow up your bikes, helmets, clothes, etc.
Best for going roof rack-less: Mercedes-Benz Vito Tourer/Crew Van
If you're regularly taking more than a couple of bikes and their riders, you might want to think about a larger, van-based passenger carrier.
The Mercedes-Benz Vito Tourer is a good option. It offers a range of flexible seating options and comes in three different body lengths to create acres of space. The seats are also removable, so you can take a row out and store them at home in order to fit some bikes in the back. 
Alternatively, you can opt for a Vito Crew Van version, which has six seats and a dedicated cargo area at the back for your bikes.
Best for rugged style: Seat Tarraco
SUVs have obvious advantages for carrying bikes and there are many large seven-seat models that will do the job well. Just think twice before thinking of carrying your bikes on a roof rack, though – you'll probably need a ladder to load them.
We've gone for the Seat Tarraco, one of the newest on the market. Fitted with most of the same mechanical parts as the Audi Q7 and Volkswagen Touareg, but a lot cheaper, the Tarraco offers up to 1,775 litres of bootspace, or you can opt for a tow bar bike holder. It's also good to drive, has all the latest tech and looks very stylish.
Make searching and staying updated even easier.