Best cars for carrying active kids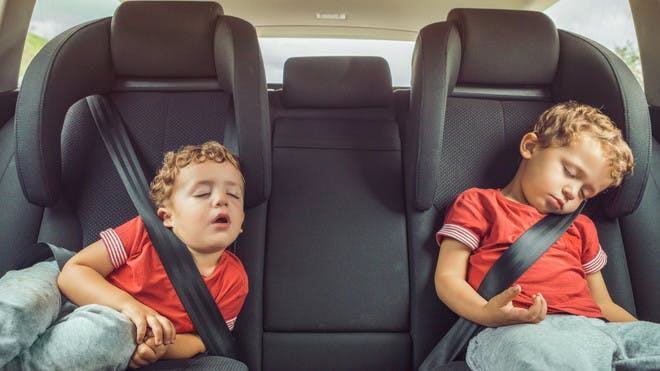 If you spend your weekends chauffeuring kids around to sports clubs and events, you'll need a car spacious enough for them and all their kit. We've chosen some of the best currently on sale.
The people carrier: Seat Alhambra
There are some good MPVs around, including the sporty-looking Ford S-Max and the Volkswagen Sharan, but our pick is the Seat Alhambra. The Spanish car brand is owned by Volkswagen, so the Alhambra has the same mechanical parts as the more expensive Sharan. It's also well equipped and looks stylish.
But best of all, it's totally practical. All three middle seats move forward and back independently, they recline (so kids can sleep more comfortably on longer journeys) and 'tumble' forward to make getting into the back row easier. The two back row seats are even big enough for adults – at least for short trips – but even when in place, the boot is big enough for kit bags. There are also electric sliding doors, which are really useful in tight parking spaces. 
It comes with either a 2.0-litre diesel engine or, if most of your trips are short, a 1.4-litre petrol unit. Both are good options, in their own ways.
The versatile one: Citroën Berlingo
The Berlingo catches the eye immediately as a fun and funky-looking people carrier, which features some cool coloured exterior trim to help it stand out even further. There are also some funky fabric choices for the interior, too.
The biggest plus of the Berlingo is its practicality, though. Available in either five- or seven-seat (XL) formats, the seats fold flat and, in some cases, can be removed There are lots of lots of storage and stowage spaces inside the car, including large door bins, plus a glovebox that is chilled by the car's air con.
Space is plentiful all around, with lots of room for tall adults in the front and very generous headroom in the rear.
You can choose between three versions of the diesel engine or a petrol unit, while Citroën has kept the trim choice simple, with just two options. 
The practical SUV: Škoda Kodiaq
The Kodiaq does what all Škodas do: offer lots of space. The middle row of seats has enough knee-room and headroom for adults, while the seats slide forward and back, and also recline. In the seven-seat version (there's a five-seater, too), the two seats at the back are really only big enough for children, but they'll be fine for ferrying them to football/rugby/swimming, etc at the weekend.
This is also a well-equipped car, with an infotainment system that syncs to your smartphone, with Android Auto and Apple CarPlay on offer. There's a DAB digital radio, so you can battle with the kids over whether Radio 1 or BBC 6Music is what soundtracks your trips. Even if you don't all agree, it's possible to have a wifi hotspot, so older kids can connect, plug in their headphones and stream their own tunes.
There are nine trim levels and seven engine options, so you'll have plenty of combinations to choose from.
The rugged rugger SUV: Land Rover Discovery
The Land Rover Discovery has so many country sports connotations that it's a shoo-in for this category of cars. 
Not only practical, but also premium, the Discovery has all the quality you'd expect from a car at this end of the market (it starts at just over £47K, and can rise to £70K). If you have the cash to splash, the range-topping newer cars have a rear-seat entertainment system than means kids can watch screens in the seat-backs. There are lots of other nice tech touches, too, including a widescreen display for the sat nav.
But beyond these niceties this car is great for ferrying kids of all ages. There are seven seats and even adults can comfortably sit in the two at the back, such is the quantity of headroom and knee-room. Throw into the mix the number of storage bins (include a refrigerated one in the centre arm rest) and pockets for post-exercise snacks and drinks, and you have the ideal vehicle for activities.
For shifting a pack of forwards: Volkswagen Transporter Shuttle
If you need lots of space because you've volunteered to take teenage kids (and some of their teammates) to away matches, you'll want to upgrade to a van-based passenger carrier.
There are number of these on sale, such as the Transit-based Ford Tourneo Custom, but our choice is Volkswagen's Transporter Shuttle. This has all the best qualities that you expect from the German brand's vehicles, such as a comfortable, high-quality interior and a dashboard that is clearly laid out.
The rear space is on another level compared to seven-seat SUVs or people carriers, though, plus you have an extra chair (or even two – it can be a nine-seater). There's also room in the boot for quite a few kit bags, while some can be stowed underseat. 
Make searching and staying updated even easier.