Tiny Citroen Ami EV Quadricycle is coming to Britain!
France's city-focused and very tiny EV was never intended for Britain. But 12,000 prospective customers have changed that.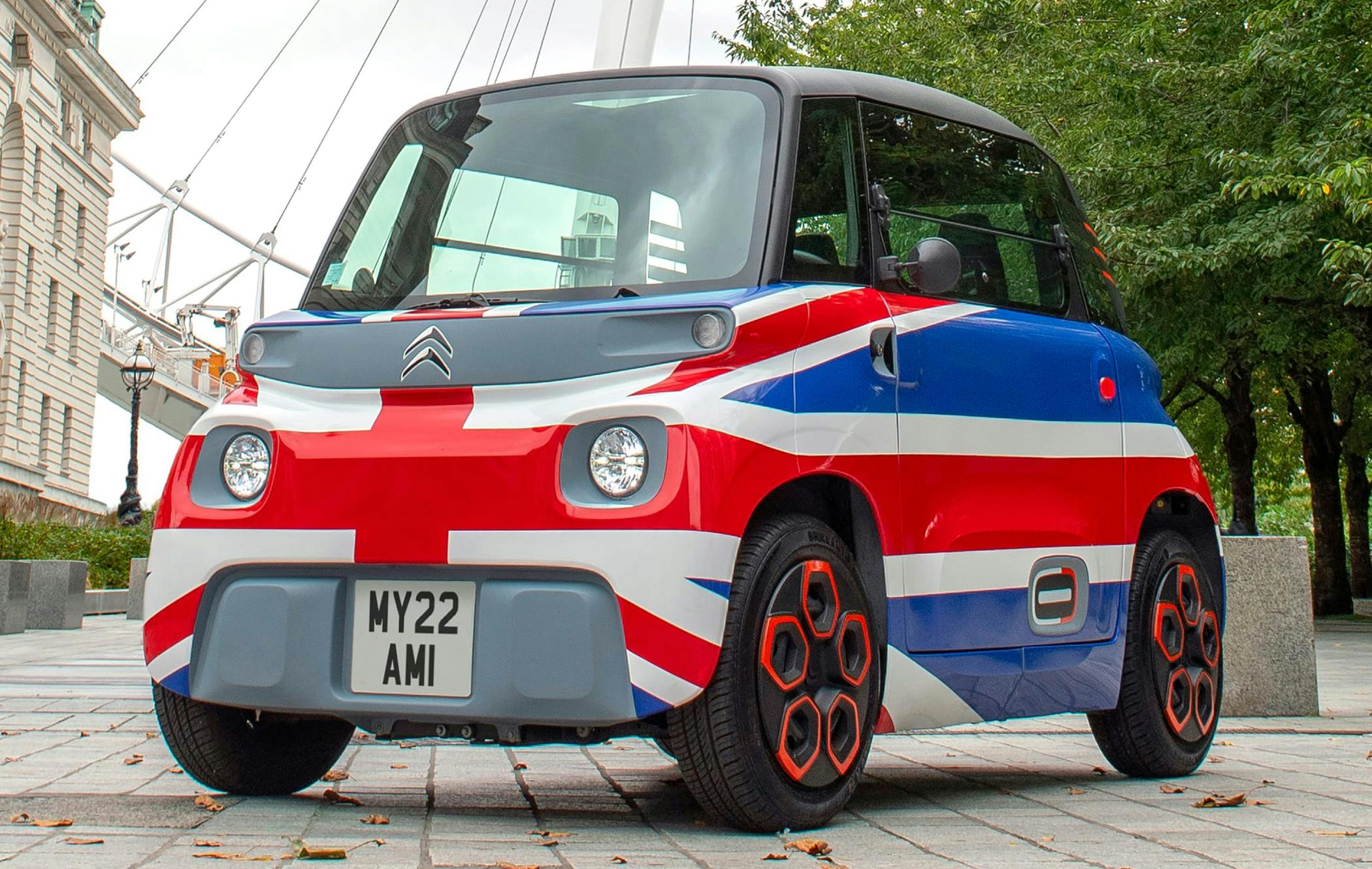 Citroen has confirmed it will launch a new and positively tiny electric car called the Ami in Britain next year, following an onslaught of interest from prospective UK buyers. The battery-powered city model was never intended for Britain, but with 12,000 people having registered interest in buying one, Citroen has been swayed. Pricing for the French two-seater (there's no space for more!) hasn't yet been announced, but it's anticipated to cost from about £6,000.
While that price would ensure it comfortably undercuts the starting figure for the Dacia Sandero, the Ami won't steal the title of cheapest car on sale in Britain because it's classified as a quadricycle, which is essentially a miniature car. Historically, quadricycles have been powered by motorcycle engines, but the eco-conscious Ami uses a 6kW electric motor powered by a 5.5kWh battery pack. Those are appropriately tiny numbers for such a little car, which stretches just 2.4 metres in length – a full 1.6 metres shorter than a Ford Fiesta.
With drive going to the front wheels, the Ami's top speed is 28mph and its range is a claimed 46 miles, so this is very clearly a city car in character and capability – and, thanks to its quadricycle classification, it can't be driven on the motorway. But for the urban commuter or resident who fancies a runabout to pop to the shops and back, the Ami makes perfect sense. Same goes for those utterly smitten by its cutesy looks and ingenious use of space in what is a very funky interior.
The Ami uses so-called 'suicide doors' – which open in the opposite direction to normal, just like a Rolls-Royce Phantom's doors! – to enable easier access, and the cabin is made largely from plastics and thin fabrics to save weight and keep costs down. You don't get much in the way of technology to play with, but that's entirely the point. This is a cheap and cheerful machine, one that in certain European markets can legally be driven by 14-year-olds. British buyers will have to have a full driving licence however, meaning they will need to be at least 17.
Citroen also isn't producing a right-hand drive version of the car for Britain, meaning the steering wheel is on the left. But given that the Ami measures just 1,390mm in width, you won't exactly be sitting far out of the usual driver sightline. Citroen reckons a driver sits only 300mm further left over the road than they would be in a normal, right-hand drive car. We can't think of many reasons why you'd need to see around something ahead anyway; it's not like this 28mph quadricycle will be overtaking many things, other than pesky e-scooters!
With its congestion charge and Ultra-Low Emissions Zone exemptions and lovable looks, we have no doubt many will be sold on the prospect of zipping about the city in this French quadricycle. Handily, Citroen is already taking refundable £250 deposits now, with first deliveries scheduled for next year. If you miss out on the initial supply, may we suggest you keep an eye on cinch's electric cars section for any dinky little EVs in the months that follow the Ami's arrival. Winkface.