Best car for bootspace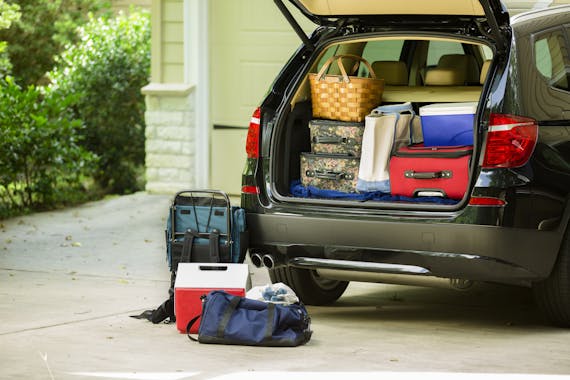 It's easy to compare the luggage capacities of different cars, because they're all published, right? Not exactly. Surprisingly, how bootspace is measured is not an exact science, so let's take a look at how to find the cars with the biggest capacities – and which models to consider.
How boot capacity is measured
Boot capacity is one of the best indicators of how practical a car might be for you. Many of us want a decent-sized boot, not just for the big weekly shop, but also to carry baby buggies, luggage for holidays and weekend visits to friends and family, or to carry stuff for work or leisure activities. 
All manufacturers publish the boot capacity of their models, but this doesn't tell the whole story. If you're looking for a car with a big boot, just relying on these figures isn't enough. 
The first thing to understand is how car companies calculate bootspace. They all use a document from the Society of Automotive Engineers (SAE) that recommends using standardised blocks to measure an enclosed boot – as in a saloon car – or measure length, width and height in a car with a more open back, such as a hatchback or estate.
Muddying the waters
Car companies admit that these systems aren't perfect. Take the blocks, for example. Boots don't have perfectly straight, squared-off sides, plus things like wheel arches can also intrude. So using blocks is not a very accurate method.
It's a similar story with the more open boots of a hatchback-style car. The measurements of the length, height and width aren't necessarily the optimal dimensions, because the shape of the boot isn't cube-like and you have to take other things into account like the angle of the rear seats. 
What is even measured can be wildly different, too. The SAE recommends measuring up to the top of the seat back in a hatchback, but up to the ceiling of the car in an estate, SUV or people carrier. This makes comparing the different types of car impossible – and that's before the manufacturers decide for themselves on whether or not to follow the SAE's recommendation.
And while the carmakers might follow SAE guidelines on the type of sample luggage blocks used to see how many cases, golf bags, etc can be fitted in a boot, the units they use aren't standardised. For example, some manufacturers use blocks with handles, while others don't. 
Make your own judgement
Our best advice is to use the manufacturer bootspace figures as a guide, rather than as gospel.
It's also worth taking a tape measure with you when looking at a car that you're thinking of buying. If there's anything that you regularly carry in a boot – a buggy, say, or a piece of equipment – make sure that you have its dimensions so you check if it fits. It's also worth measuring the boot's aperture – the opening that's created when you lift the bootlid or hatchback – to make sure that it's big enough, too to get stuff in in the first place.
Alternatively, take a something like a carry-on case with you when you look at a car, place it in the boot and snap a few pictures. You can then get some perspective and compare the boots in the different cars that you're considering buying.
Our top three cars for bootspace
1. BMW X7
The largest of BMW's range of SUVs has the biggest usable boot capacity of any car on the market (unless you opt for a van-based people carrier). The official boot capacity is 750 litres, which is less than a number of other cars, but a recent test found that it is the only car that you can fit 12 carry-on suitcases in – which only goes to show the problem with relying on the official figures.
2. Škoda Superb Estate
Estate cars are usually a good bet if you're looking for a vehicle with a sizeable boot. After all, lugging big loads are what estates are all about, aren't they? Škoda usually has a head start over most other manufacturers, because of the way the company 'packages' a car – how it makes the most out of the space inside the vehicle – and the Superb's 660-litre boot is a cavernous space for swallowing up whatever you need to carry. 
3. Volkswagen Touareg
Large SUVs are a good bet if you're looking for a bootylicious car, so Volkswagen's big beast of an off-roader won't disappoint. An official capacity of 810 litres is impressive, but tests also show that it's possible to squeeze in 10 carry-ons, if you need to.