Best cars for dog owners
Top tips for buying a dog-friendly car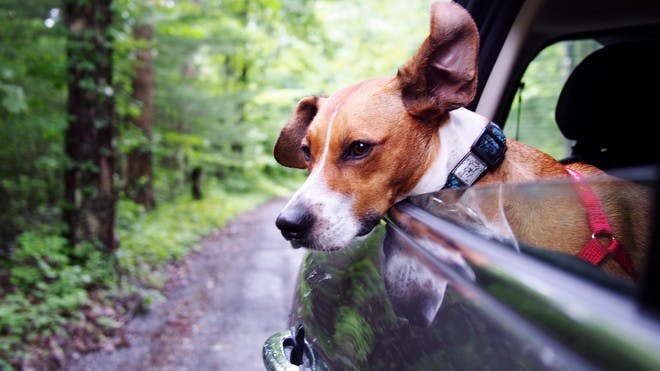 Twenty six percent of us in the UK are dog owners so when you're choosing a car, you also need to think about the needs of your canine friends. To ensure you're not barking up the wrong tree when buying a car, we've got some tips for you to consider when deciding on the best car for your dogs.
Top tips for buying a dog-friendly car
Since dogs come in all shapes and sizes, the chariot for a Chihuahua will be different to a van for a Weimaraner. There are, however, some basic things to look out for when picking a car fit for a pooch.
First, there's the boot size to consider. If you have a large dog, or a small one that likes to be active when in the car, a good-sized boot is going to be important. An estate car is the obvious choice, but remember that estates come in different sizes, too, so you won't necessarily have to go too large.
Whatever the size of your dog, you'll need a boot made from materials that can cope with a mucky pup. If you want to keep your car in reasonable shape, you'll have to account for a dog's tendency to chew things like the trim.
You'll also want to make sure that the boot is easily accessible for your dog, so the opening of the hatchback needs to be pretty wide and the floor of the boot shouldn't be too high for them to get in.
If you need to be able to clean the boot after wet and soggy doggies, or in the event of the odd accident, wipe-clean materials of a bootliner will be required.
Alternatively, if your dog is smaller and prefers to be in the company of their humans in the cabin rather than staying in the boot, you may want to consider investing in a seatbelt harness or a dog car seat in order to keep your furry friend safe in the event of a crash or sudden braking.
Best in show: top cars for top dogs
The budget choice: Dacia Logan MCV estate
If you're in the market for something relatively cheap and cheerful to carry your dog, the Dacia Logan MCV estate should get the rosette for first place.
This Renault-based car has a big boot of 573 litres, which is twice the size of the interior of a typical UK fridge so should be big enough for most breeds. It's also built from durable materials – mostly harder plastics, designed to be hard-wearing.
Engine-wise, you can choose from a diesel or two petrol engines, all of which do a good job.
With prices starting from £8,495, a bargain if you're looking for something big and durable. 
The SUV: Nissan X-Trail
The Nissan X-Trail is an SUV with a boot large enough (565 litres) for many dogs.
But better still for dog owners is that Nissan also sells an option package called Paw Pack. For £500, owners get a ramp to help smaller and less mobile dogs into the boot, a boot liner, seat-back storage for leads, a dog bed and dog guard.
 Humans will be comfortable, too, in a spacious cabin, while the only engine option – a 1.7 dCi diesel engine – is powerful enough.
The compact estate: Seat Leon ST
The Seat Leon is a stylish family car that is a natural fit for any well-groomed canine – or owner.
Despite being an estate based on a small family hatchback, there's an impressive 587-litre boot, which matches some larger SUVs. But unlike an SUV, the boot floor is quite low, so it's ideal for smaller dogs.
Space is good for humans in the cabin, too, while the Leon has lots of options, with 12 trim levels and nine different petrol and diesel engines to choose from.
The larger estate: Volkswagen Passat Estate
If you want a bigger estate, the Volkswagen Passat Estate is a good choice as it has a large boot and is built from sturdy materials. 
VW uses high-quality plastics, making everything feels solid, so your pet doggy will have their work cut out if they like to chew.
This is also a really comfortable car in which to travel, with all the latest features – whether technological or safety – onboard, depending which of the seven trim levels you choose. Add in the option of four-wheel-drive and plug-in hybrid variants, and you're spoiled for choice.
The MDV (Multi-Dog Vehicle): Citroën Berlingo
The van-based Citroën Berlingo people carrier has a massive interior. Available in two sizes, the standard M has five seats, while the XL can seat seven. If you choose the XL, there should be enough space for a couple of smaller dogs or a large one, as there's 1050 litres, even with the rear seats up, or 3500 litres with the rear seats down. 
And there's still plenty of room for human occupants, with lots of storage for leads, balls, favourite stick, chew toys, etc.
Make searching and staying updated even easier.