Car tax, road tax and vehicle excise duty – all you need to know
Car tax, road tax and vehicle excise duty – all you need to know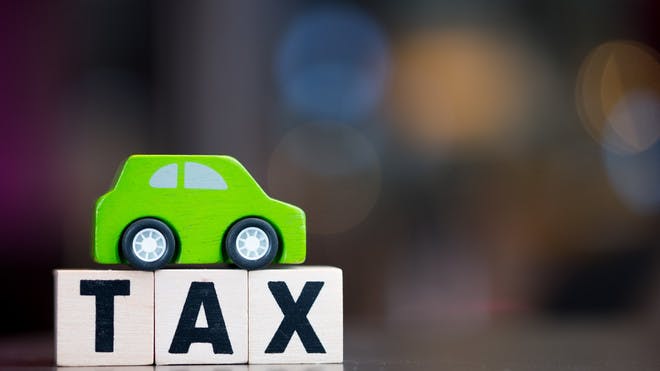 Like it or lump it, we all have to pay car tax (or VED as its officially known). But what exactly is it, why do we pay it and how do you stay legal? Here's everything you need to know…
Car tax rates are based on either engine size or fuel type and CO2 emissions, depending on when the vehicle was first registered. 
Car tax: what is it?
Well, it used to be that car tax – or road tax, as it's also known – was used to pay for the building of new roads and the fixing of old ones, but that hasn't been true since before World War II. Now, the money we pay to use the roads just goes into the big pot of taxation that the government uses to pay for everything.
Oh, and strictly speaking, car tax is officially called Vehicle Excise Duty, or VED. 

The cost of car tax
Car tax rates are based on either engine size or fuel type and CO2 emissions, depending on when the vehicle was first registered. 
The tax rate for cars registered before 1 March 2001, for example, depends on engine size, while the rate for cars registered between 1 March 2001 and 31 March 2017 depends on the level of CO2 emissions (emissions levels are arranged in a series of tax bands). 
Cars registered after 1 April 2017 have their tax rate decided by CO2 emissions and the type of fuel they use (diesel vehicles are more expensive to tax than petrol): in addition, cars with a list price of over £40,000 are also subject to a supplement of £310, which is payable on top of their standard rate for the first five years. 
You can check which band you are in and find out how much it costs to tax your car at www.gov.uk.

Car tax exemptions
Not everyone has to pay car tax. You're exempt from car tax if you:
Own a new car that produces no CO2 emissions (electric or hydrogen fuel cell vehicles, in other words) and costs less than £40,000.
Own a car registered between 1 March 2001 and before 1 April 2017 that produces up to 100g/km of CO2.
Have a disability (such as a mobility scooter or electric wheelchair), receive War Pensioners' Mobility Supplement, or receive the higher rate of the mobility component of Disability Living Allowance.
Even in those cases, you still have to tax your vehicle, although it won't cost you anything.
You also don't have to pay car tax on 'historic vehicles', which is a car that is at least 40 years old.
What is SORN?
SORN is short for Statutory Off-Road Notification and is how owners register cars with the DVLA when the vehicle isn't driven or parked on a public road. 
If you are not using your car and it is kept off public roads during the tax year, you must ensure that you have a valid SORN or you will still be liable for car tax. You can apply online at www.gov.uk or phone the DVLA on 0300 123 4321, 24 hours a day. When you officially notify the DVLA of a SORN, you will get a refund for any full months of remaining tax.

How to pay your car tax
If you want to check when your car tax is due, you can go online and enter your registration at www.gov.uk. When it is time to pay, your car tax must be paid to the Driver and Vehicle Licensing Agency (DVLA). 
You can buy car tax for a full year, six months or pay in monthly instalments (there's a 5% surcharge for six-month or monthly payments). 
 If you pay annually or every six months, you'll receive a form called a V11, which is a reminder from the DVLA that your car tax is due. You can then pay at a Post Office or online at www.gov.uk. 
If you pay by direct debit, you won't get a V11, but you will get an email or letter, telling you when your Direct Debit payments will be taken. 
Since October 2014, the DVLA no longer issues paper tax discs. Technological developments such as automatic number plate recognition (ANPR) systems enable it to check that owners are paid up.

Penalties for non-payment
If your vehicle is untaxed, you will first receive an Out of Court Settlement (OCS) letter. You will have to pay £30 plus one and a half times the outstanding vehicle tax rate.
If you don't pay that, it is then considered a criminal offence, so the case may be pursued via the Magistrates Court. The penalty is either £1,000 or five times the amount of tax chargeable (whichever is greater).
If your untaxed car is spotted parked on the road by the authorities, it may also be clamped or impounded. You will then have to pay to release it: if you don't, it might be auctioned off or crushed.
And you don't want that, do you?
Make searching and staying updated even easier.