Best cars for childminding grandparents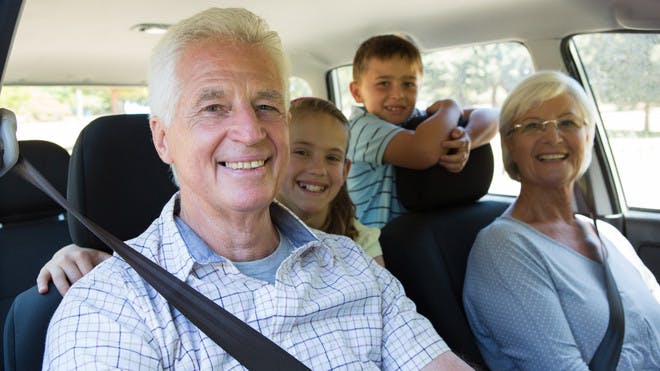 One minute you're driving your kids around, the next, you're driving their kids around.
Government figures show 1 in 4 working families and 1 in 3 working mothers use grandparents for childcare in the UK. If that's the position you're in, let us lessen load with the following advice for family cars fit for the grandparent taxi service.
Driving children and safety
Time marches on and, if you're a grandparent, chances are that the family car you drove as a new parent will be very different to the one you drive now.
Safety, for example, has moved on hugely. Everyone has to wear seatbelts, we have numerous airbags around the car and there are lots of clever electronic systems to keep us all as safe as possible. If you're buying a car to transport your precious grandchildren, you'll want as many of those features as possible.
 Then there are car seats. Children are no longer able to loll around on the back seat: there is now very strict legislation on child car seats that you'll need to know. You can find it all at the government's website but the headlines are:
Children must use a child car seat until they're 12 years old or 135cm tall, whichever comes first.
Children over 12 or more than 135cm tall must wear a seat belt.
You can choose a child car seat or booster seat based on your child's height or weight.
You must deactivate any front airbags before fitting a rear-facing baby seat in a front seat.
You are not allowed to fit a child car seat in side-facing seats.
You can also find more information on choosing the right car seat – and travelling safely with children – at RoSPA's website. 
The other thing to look out for when buying a car is Isofix points, which anchor child seats. The more of these in a car, the better, as it gives you more flexibility for placing child seats.
Finally, if you have to carry three children, all of whom have to sit in child seats, check that you can get all three in the rear: in many cars, especially smaller ones, you won't be able to do this.

The best cars for carrying children

Ford Focus
The Ford Focus is still one of the most popular cars in Britain, because it's such a good all-round family car. The latest generation also has an impressive safety rating.
It has earned a five-star Euro NCAP rating thanks a raft of new active safety technology. This includes a pair of cameras, plus three radar and 12 ultrasonic sensors, to help alert the driver to any surrounding hazards. An Evasive Steering Assist feature can also help the driver avoid obstacles by steering around a slow-moving or stationary vehicles. Throw in active safety features such as autonomous braking and you have a very safe car.

Volkswagen T-Cross
The new Volkswagen T-Cross compact SUV has also achieved a five-star rating from EuroNCAP, thanks to an array of safety features that come as standard. These include lots of active safety features, airbags, a pair of Isofix fittings in the rear and an emergency call function (which automatically calls an emergency operator in the event of a crash).
Despite being a compact SUV, there is some extra ride height, so the driver has a better view ahead, helping them to anticipate any potential hazards. 

Ford S-Max
People carriers are great for carrying kids. The S-Max is a good choice as it looks sporty, but it's also very practical. The second-row and third-row seats can all be folded flat at the press of a button, for example. If you've got your hands full, you can just wave your foot under the rear bumper and the tailgate will open or close like magic.
As well as a host of safety features, there are also versions with all-wheel drive for extra safety in slippery, wet or icy conditions. 
Renault Grand Scenic
Another seven-seater worth considering is the Renault Grand Scenic, which is one of the safest on the road. It has a five-star EuroNCAP rating and a lots of driver safety features, including autonomous emergency braking when detecting cars or pedestrians, blind spot and lane departure warnings, parking sensors and a reversing camera. 
 There are also lots of useful cubby holes for storing all the bits and pieces that you need when carrying kids.
Volvo XC90
If you want a safe car, you can't go wrong with a Volvo. The Swedish carmaker has always been at the forefront of safety innovation and that's as true today as it's always been. 
The Volvo XC90 is a great car for carrying kids because it's a high-riding SUV, it has seven seats and it's supremely safe. It also is a car which will accommodate three child car seats in a row. As well as a very strong safety cell that surrounds the cabin and lots of side impact protection, it has Pilot Assist semi-autonomous driving technology.
Make searching and staying updated even easier.