TCO: The total cost of ownership and why it matters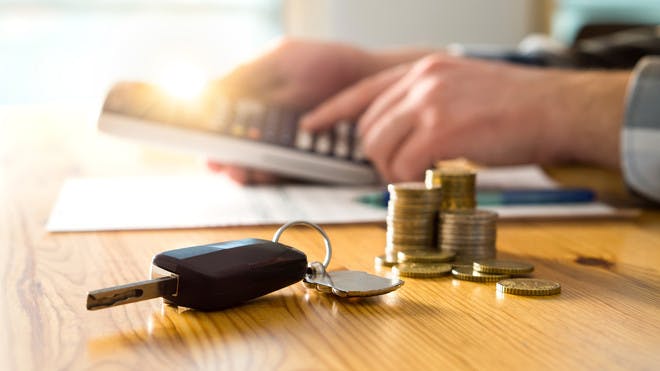 Buying a car is one of the biggest financial decisions we make, but the price tag is only one part of the overall cost of having a car in your life. It's essential to consider how much a vehicle costs to run and keep on the road too. This is what we call, the 'total cost of ownership' or 'TCO' for short. 
Fuel and insurance are the two most obvious running costs, but depreciation (the difference between a car's value when you buy it and when you come to sell it) is the biggest cost of owning a car, but also a largely hidden one.
In the UK we swap cars on average every 3-4 years. Some new cars can depreciate by as much 15-35% in the first year and will often lose 50% or more over three years.
Using as an example, two notional cars at the economy end of the market, you can see that the Car B, which is cheaper initially by £2,000, actually costs more over three years than Car A.
Car A – higher purchase price
List price - £9,995
Depreciation – £3,805
Fuel – £4,726
Insurance – £2,004
Servicing, maintenance, repairs – £735
Road tax – £500
Registration fee – £55
Total running cost over three years: £8,020
Total cost of ownership over three years: £11,825
Car B – lower purchase price
List price - £8,999
Depreciation – £6,159
Fuel – £2,950
Insurance – £1,764
Servicing, maintenance, repairs – £711
Road tax – £400
Registration fee – £55
Total running cost over three years: £5,880
Total cost of ownership over three years: £12,039
So, as you can see, while the more expensive Car A also has higher running costs, it depreciates less. Meanwhile, Car B, which is cheaper to buy and to run, depreciates a lot more. In fact, it depreciates so much more that the initial £2,000 saving is completely outweighed by depreciation over three years.
On that basis, if you could afford it, you'd be better off with Car A. 
That's the total cost of ownership.
Which new cars depreciate fastest and slowest?
Looking at depreciation alone, it's clear that the value of a new car can fall at an alarming rate, but some perform worse than others.
Recent research* found that while some cars lost around 30% of their purchase price over three years, the worst could lose more than 75%.
High-end models from the likes of Land Rover and Porsche held their value best, while electric cars and hybrids depreciated more slowly than conventionally fuelled vehicles and diesels suffered the most rapid loss of value.
The Land Rover Evoque R-Dynamic P250 was top of the table, retaining 70.1% of its value.
However, when it comes to total cost of ownership over three years (including fuel, insurance etc), smaller, cheaper economical cars in low insurance groups are the best value.
How can I minimise my car's depreciation and maximise its resale value? 
1. In order to maintain the value of your car, try not to exceed an average mileage of more than 10,000 – the higher the mileage, the less your car is worth 
2. 'One careful owner' – the fewer keepers on a car's V5C registration, or logbook, the better. 
3. A full service history gives potential buyers peace of mind. The service book should have the right stamps and receipts in line with the manufacturer's recommendations.
4. The longer the warranty left on a car, the more attractive it is as a used car buy. Most manufacturers have a standard three years, but some offer a generous five or seven. 
5. Safety first – advanced safety tech such as Autonomous Emergency Braking (AEB) makes a car more desirable for an increasing amount of used car buyers. 
6. Colours can affect a car's resale price because some buyers are put off by divisive shades, so stick to popular colours like silver… and avoid pink!
7. If a model has been replaced or had a face-lift from the manufacturer during your three years of ownership, your car will depreciate more. Try to choose a new car which is towards the beginning of its production run.
8. It's worth spending a little extra on the right optional extras, such as built-in sat-nav and air conditioning, because these make your car more attractive as a used car.
9. Keep it in tip-top shape. Damage to the bodywork, alloy wheels and interior reduce a car's value. Odour left by cigarettes and dogs is another turn-off.
10. Cars should be kept as close to their standard specification as possible, so refrain from changing the alloy wheels and seats, or adding body kit. Cars featuring original parts are easier to sell on.
What is the total cost of owning a used car?
You don't just need to worry about the total cost of ownership with new cars.  You should also consider it when buying second-hand. The good news is that depreciation is not such a big concern because it's likely to have experienced the worst of it during the first three years of its life, but it will still apply to some degree.
Nevertheless, on a used car, it's running costs that will have the biggest impact. Fortunately, there are free online tools for finding running costs for exact makes and models of used cars. For instance, Money Advice Service's Car Cost Calculator. Simply type in a second-hand car's registration to find out how much it costs to run over a year.  
*What Car? April 2019
Make searching and staying updated even easier.