Volkswagen Golf vs Ford Focus: which is best for you?
Two excellent five-door models go head-to-head in this mid-weight hatchback boxing match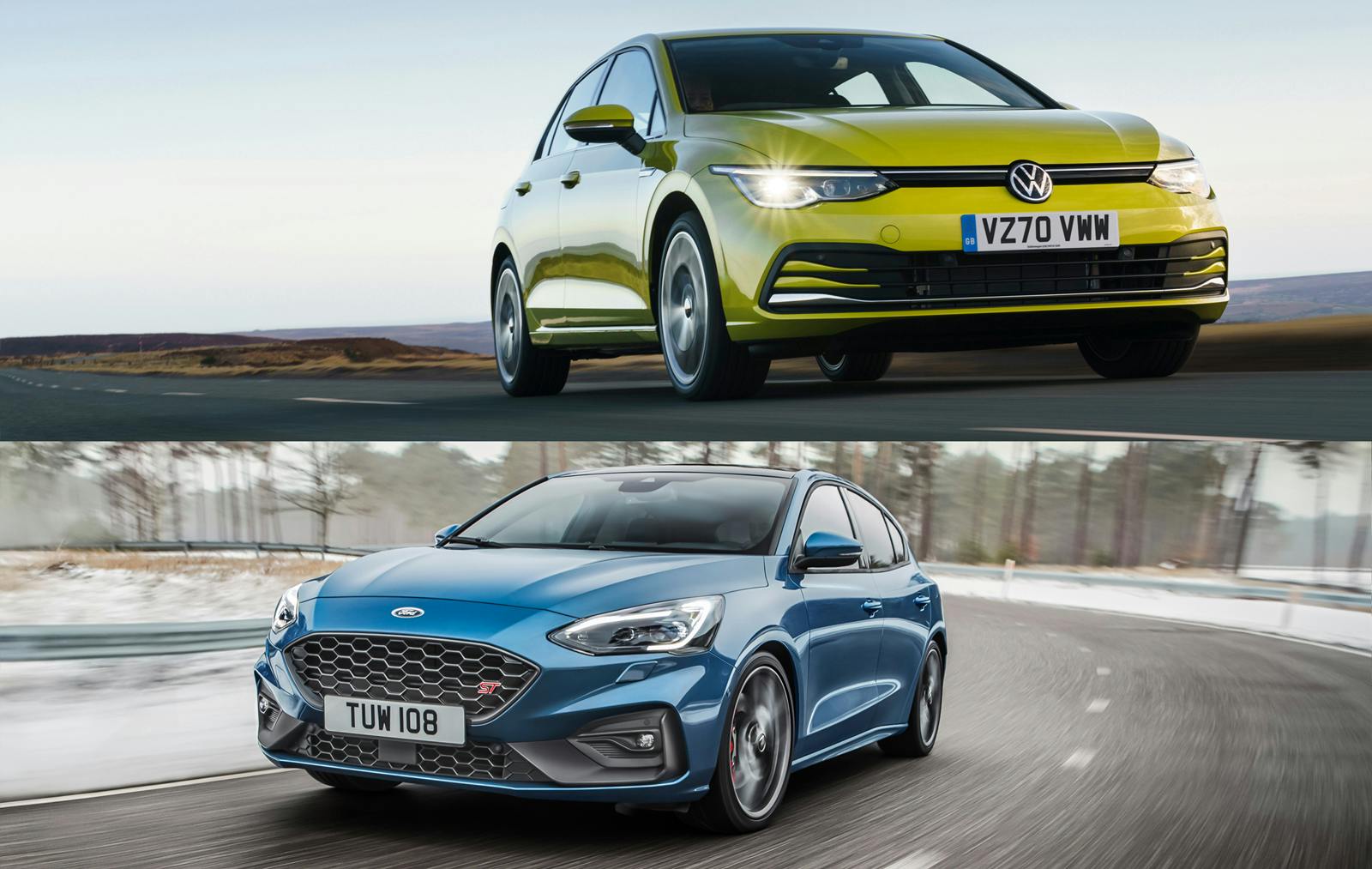 If you're in the market for a five-door hatchback that offers great practicality, a nice drive and decent performance, congratulations, because there's plenty of choice out there. But if you'd prefer to whittle down the selection to two candidates, it's for good reason the Volkswagen Golf and Ford Focus will stand out in the mid-sizes segment. They're both brilliant. But how do you pick the car that's best for you? That's what we're about to help with…
Volkswagen Golf
The Golf is a bit of a legend of the hatchback world because it was the first model to offer premium quality in the segment, when the first version launched back in 1974. But now, with rivals having elbowed their way right up alongside it, the Golf's not quite the standout it once was. That means we have to delve a little deeper into the details to see what it offers over one of its arch rivals from Ford. For fairness, we'll compare both models in their latest guises, starting with the Golf, of which the eighth-generation arrived in 2019. Let's get number crunching.
Price range of cinch's current range of cars (correct as of 10 Feb 2022): £22,950 - £44,950
Available fuel types: petrol, diesel, plug-in hybrid
Claimed miles per gallon range: 235.4 – 36.2 (across all variants)
Manufacturer warranty: three years or 60,0000 miles from new
Seats: five
Boot space: 381 litres – easily enough for four carry-on suitcases under the parcel shelf
The subjective stuff
In isolation, it's hard to fault the Golf because it does everything so well. There are a few divisive features, like a touch sensitive heater control dial that's a bit fiddly to use. But the rest of the car's cabin is appropriately premium, even in base-level Life trim, while the ergonomic basics are all pretty much spot on. The driver's seat can be adjusted through a wide range of positions, the space up front is generous and there are even plenty of storage bins and cubby holes to put things in.
Go up the trim ladder into plusher variants and you'll find dual (instead of single) zone climate control, part- or full-leather seats and wireless charging, as well as a heated steering wheel and seats, and a powerful sound system. That breadth of specification is matched by the engine range, which goes from punchy turbocharged petrols and diesels through to eco-focused hybrids, including a proper plug-in hybrid one (which can handle city miles on electric power alone) offering that enormous, claimed miles per gallon peak figure listed above. You can even get high-performance GTI and R models.
Practically speaking, the Golf is also very strong. It comes with five doors as standard, offering good access all round and generous leg and knee room in the back. Overall, it's not the class's most spacious hatchback, but there's little to stop you from carrying four adults in relative comfort for long distances without complaint. The central seat on the back bench is best kept for shorter drives or kids, because it's narrower.
On the road, the Golf rides nicely – especially in top-grade trims where you can add Volkswagen's Dynamic Chassis Control (a system that lets you soften the suspension off in a squishy 'comfort' mode). It steers with real enthusiasm, too, and handles its power no matter the engine under the bonnet. With mod cons like adaptive cruise control (which can follow the car ahead on a motorway) and safety systems like automatic emergency braking, the Golf is as great at long distance motoring as it is at city driving. The latter is helped by the fitment of a reverse camera, making parking a doddle.
Ford Focus
Since the Focus first arrived in 1998 as a direct rival to the Golf, the mid-sized hatchback segment has been a better place. Not only did it attempt to lure buyers from its German alternative with handsome looks, but it also promised to offer a better, sportier drive in all forms. Ford's original Focus has been succeeded three times, with the present fourth-generation model maintaining the form of its forebear – and continuing to give the equivalent Golf a headache. More on that in a mo…
Price range of cinch's current range of cars (correct as of 10 Feb 2022): £10,450 - £27,450
Available fuel types: petrol, diesel, mild hybrid
Claimed miles per gallon range: 67.3 – 36.2 (across all variants)
Manufacturer warranty: three years or 60,0000 miles from new
Seats: five
Boot space: 375 litres – easily enough for four carry-on suitcases under the parcel shelf
The subjective stuff
Many people are drawn to the Focus for its competitive prices, but plenty also fall for its sharp looks. The latest Focus is handsome in all trim levels, but the higher-grade Titanium- and ST-badged models are naturally the best lookers. Ford's love of sporty design and ergonomics means the cabin also stacks up well, with a great driving position offering a wide range of adjustability, functional infotainment system with (rejoice!) conventional heating climate control knobs, which are ultra-easy to use. You're also not short of storage space and cubby holes, with good space up front by all measures.
Like the Golf, Ford's Focus comes with a wide range of trim levels allowing you to add poshness to the base car's interior. You can add part-leather seats, dual zone climate control and wireless charging, while top-grade ST models get sporty trim as well. This variety continues into the engine bay, where the engine line-up includes eco-focused turbocharged petrols and diesels, a mild hybrid petrol (which, unlike the Golf hybrids, doesn't offer electric only-driving) and performance-honed ST power. The Focus doesn't reach the power heights of the Golf, but it offers comparable levels of fun.
As for the practical stuff, the Focus is also only available as a five-door like the Golf, making for easy access front and back. While the Golf has a very slightly larger boot (by six litres, which you'd struggle to notice), the Focus has more rear seat space making it the slightly more competitive family car offering. Again, the difference is small, but those who regularly carry rear passengers might find this to be a key advantage. Mind you, the central seat is narrow like its rival's, so it's best restricted for use on shorter journeys if you're carrying adults.
The Focus keeps up the pace on the road, where its punchy engines and quick-reacting steering make it feel sporty in all guises. Naturally, the highest-grade variants (like the lukewarm ST-Line and hot ST models) are the most athletic in nature, but even the base Focuses have an inherent keenness in the way they go about their business. This does somewhat hamper the car's claims for maximum comfort (sportiness often comes at the expense of comfort), but the poshest Vignale Focus is the supplest with its adjustable suspension. Thankfully, no matter which Focus you drive, all are at home in the city and on the motorway with no shortage of driver assistance technology.
The verdict: Golf or Focus?
Given that some buyers will naturally be drawn to the Golf and others will find the Focus better suited to their requirements, we could very easily call this one a draw. And that's before we consider the number of versions both cars come in. But when it comes to overall value for money, it's hard to argue with the Focus. Ford's hatchback might not have the Golf beaten for plushness or even ride comfort, but when it comes to offering the most practicality for your pounds, the Focus is a clear champ. That it injects an air of sportiness into the equation makes it arguably the most rounded car out of the pairing.
Nevertheless, the Golf's premium ranking, not to mention its extra hot performance variants, mean those wanting a higher-grade hatchback experience instead of just a great value one will likely find Volkswagen's icon hard to ignore. In fact, the top-rank Golf GTI and Golf R models are terrific, offering more rounded performance than the top Focus ST hot hatch. Although Ford's less powerful car is, arguably, just as fun to drive. See. It's tricky to pick a winner...
Even when you talk money, there's an argument for both. If you're paying monthly, the lower-cost Focus is enormously competitive, but the Golf's stronger residual values mean those who prefer purchasing a car outright may see sense going that way. Oh, and the Golf gets a proper plug-in hybrid model, which will no doubt be a key advantage for fleet or company car buyers. Have a browse of cinch's selection for both models and you'll see just how tempting they can be. Although the Focus's overall lower price does ensure it wins in terms of outright value.
If we factor in that the Focus has an easier-to-use infotainment system and proper heating controls, which are less fiddly than the Golf's then our winner is clear. But the margin is super slim – and entirely subjective. No doubt you'll have come to your own conclusions after reading this on-paper head-to-head, so it's probably time you headed into our digital showroom to find your perfect hatchback. So what will it be: Golf or Focus?