Driving abroad post-Brexit: what you need to know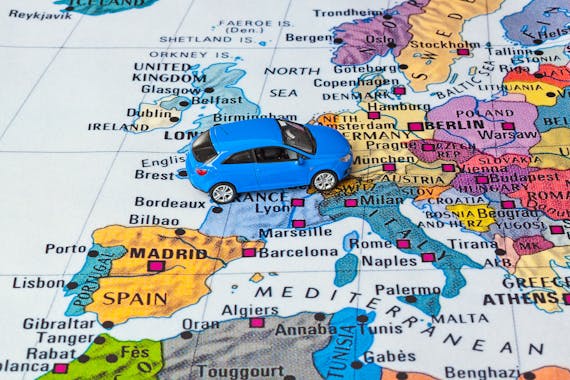 Leaving the EU will have a knock-on effect for British drivers on the continent. This is the latest advice on what you'll need to do after Brexit.
Your driving licence
Our current pink credit card-style licences are standard right across Europe, but when the UK leaves the EU (especially if that's without any form of withdrawal deal), they will no longer be recognised. If you're planning a trip that involves driving in EU member states after Brexit, you'll need an international driving permit (IDPs), as well as your UK driving licence.
You can buy an IDP from certain branches of the Post Office (you can find out which ones by searching online). You'll need to find out which type of IDP is applicable for the EU country you are travelling in. The 1949 IDP is valid for Ireland, Malta, Spain and Cyprus, and lasts 12 months. The 1968 IDP is the right one for all other EU states and is valid for three years, or for however long your driving licence is valid, if that date is earlier.
An IDP costs £5.50, so if your trip is going to take you to countries where different versions of the IDP are required (driving through France to get to Spain, for example), you'll have to buy both for £11.
Insurance
When driving in Europe, you'll need to keep a physical copy in the car of what's known as a motor insurance green card in order to prove you're covered.
A green card is an international certificate issued by UK insurance companies, guaranteeing that the motorist has third-party cover for driving in the country you're travelling in. It isn't actually a card: it's a paper document printed on green paper.
Although European insurance authorities have already said that there's no need for a green card in the event of a no-deal Brexit, this hasn't yet been confirmed by the European Commission. Because of this uncertainty, insurers are advising drivers to obtain one, so you should contact your insurance company at least a month before travelling. There may be an administrative cost involved. 
You might need more than one green card if you're towing a trailer or caravan – one for the towing vehicle and one for the trailer or caravan. Some countries might also require you to have separate trailer insurance, so check before you travel. You'll also need to have two cards if you have two policies covering the duration of your trip (if your policy renews during the journey, perhaps).
Documents
If you're taking your vehicle to the EU for less than 12 months, you should carry a document with you that shows you either own the vehicle or have a leasing agreement for it. This means that you should have your vehicle log book (V5C) in the car or a VE103, which proves that you're allowed to use your hired or leased vehicle abroad.
GB stickers
You will need to display a GB sticker on the back of your vehicle even if you have a number plate that has a GB identifier on it. 
Road traffic accidents
If you're involved in a road traffic accident in an EU or EEA country (the 27 EU states plus Iceland, Liechtenstein and Norway) post-Brexit, you may not be able to make a claim via a UK-based claims representative or the UK Motor Insurers' Bureau (MIB).
Instead, you might have to bring a claim against either the driver or the insurer of the vehicle in the EU or EEA country where the accident happened, which could involve bringing the claim in the local language.
In addition, in the event of a collision in an EU or EEA country caused by an uninsured or an untraced driver, you may not receive compensation – but this will vary from country to country.
Travelling with pets
The rules for taking a pet to an EU country will also change if the UK leaves the EU without a deal, because the UK will be categorised as 'an unlisted country'.
If you are planning on taking a pet to the continent after Brexit, you'll need to start preparing as much as four months before your trip because there's lots to do, including chipping and vaccinating against rabies. 
If there's no deal, pet passports issued in the UK won't be valid in the EU.
Make searching and staying updated even easier.