Best cars for a growing family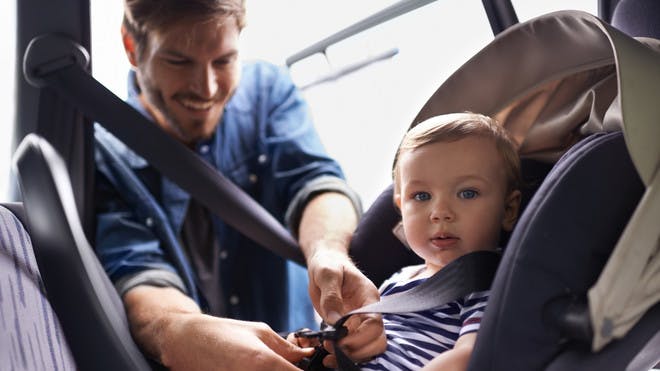 The arrival of a new baby into the family is a time to rejoice. For many though this means the need for more space. If you're expecting the pitter patter of tiny feet, it might be time to upgrade your car. We can't help with the nappy changing but we can lend a hand with the car advice.
If you're carrying children in a car, you'll want as many of these safety features as possible.
Safety
Family cars come in all shapes and sizes, but the best family cars all have one thing in common: safety.
Modern cars are very safe. The structure of the car around the cabin – known as the safety cell – is often made from high-strength steel that can withstand major impacts without deforming. The interior is filled with airbags, sometimes as many as seven. There are seatbelts that tighten and hold us in place if something interferes with the car's forward motion. All these kinds of protection are called passive safety, as they kick in after a collision. 
The biggest advances have been made in what's known as active safety. These are electronic systems that help prevent crashes. They stop brakes from locking up, make the car more stable if the wheels slip on the road surface, automatically brake the car if it detects an obstacle, stop the car from straying between lanes or alert the driver to something in the car's blind spot. There are many more, but they all contribute to making us all safer when travelling in a car. 
If you're carrying children in a car, you'll want as many of these safety features as possible. Many are now standard on all cars, but often they are only available on more expensive trim levels, or as optional extras. When buying a car, check which safety features come with the version of the car you've chosen. If they're extra-cost options, consider ticking that box too. 
Child seats
You'll need to carry your children in a succession of child seats, depending on their age and size. It's not only desirable, it's the law. All the information you'll need to know is on the government's website.
There's also loads of useful information on choosing the right car seat at RoSPA's website.
You also need to know about Isofix points, which anchor child seats. The more of these in a car, the better, as it gives you more flexibility for placing child seats. Some cars don't have them in the front passenger seat, for example.
And if you're adding a third child your family, all of whom have to sit in child seats, bear in mind that your choice of car will be restricted. Not many cars have three sets of Isofix fixings in the rear, so look out for those that do.
The safest cars for carrying children
Ford Focus
The latest Focus has a five-star crash-test rating, thanks to a raft of new safety kit. These include a suite of cameras and sensors that communicate potential hazards to the likes of an autonomous emergency braking system (standard on all cars). There's also a feature that helps you steer around hazards, a head-up display and lane centring technology.
Renault Mégane ST
Renault is a carmaker that has concentrated on safety in recent years, so the Mégane has a very good crash-test score, especially for child protection. It also has a wide array of available driver assistance systems, such as emergency braking, an automatic high beam feature for the headlights and handsfree parking.
Jaguar I-Pace
If you particularly want an electric car, the I-Pace has recently scored well across all four categories in its five-star safety assessment. Among its safety technologies are driver drowsiness monitoring, and rear traffic and clear-exit monitoring. Their 'Drive Pack' adds adaptive cruise control, high-speed emergency braking and the monitoring of blind spots in all but the base trim version.
Škoda Kodiaq
The Kodiaq is a really impressive large SUV, with either five or seven seats. Most notable for parents is that it has Isofix anchors for three child seats across the rear bench. It's also very spacious, with a huge boot for buggies and all the assorted gear that you need when travelling with young children. 
Volvo XC60
Anything with a Volvo badge has a guarantee of being safe, with the XC60 SUV being no exception. Among the safety features is the Pilot Assist function that can provide steering assistance and help maintain a safe distance to the vehicle in front. It's particularly useful on long journeys, helping to take some of the strain off the driver – which can be an issue with young children who are unsettled when you're driving.
Make searching and staying updated even easier.